Our service for your systems
We want our customers to benefit unconditionally from the efficiency and precision of electron beam technology. Regular maintenance and servicing significantly increases the service life of systems and machines; it also improves operating safety and increases system availability. Our fast global shipping of spare parts also reduces machine downtimes and ensures trouble-free production.
We are there for you – on site, by phone or through online support. If desired, we also service and repair machines from other manufacturers. And we can offer cathode servicing for third-party systems.
Retrofitting allows us to upgrade outdated technology to ensure that it is fit to meet current and future requirements.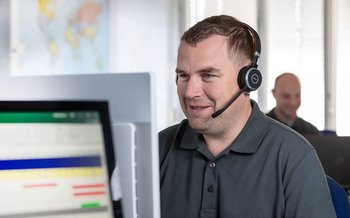 Advantages at a glance
Fast, reliable, solution-focused
Service Hotline Monday to Friday 7:00 – 17:00 (GMT+1)
Upon consultation 24/7 hotline
Remote service and online support
Service Centers in Germany, China, USA, Mexico and England 
Qualified service personnel and practical solutions
User-oriented TPM documentation and TPM support
An overview of our service offering
Spare parts management
High availability of spare parts worldwide
Fast global shipping
Certified quality
Customer-specific spare parts plan
Cathode servicing, even for systems from other manufacturers
Wide range of products (incl. special types) and customization options
Maintenance and servicing
Range of maintenance packages
Regular maintenance intervals
Machine acceptance inspection in accordance with DIN 14744
Maintenance and repair of systems and components of other manufacturers (as per manufacturer specifications, e.g. vacuum pumps)
Latest vacuum technology and minimum evacuation time
Retrofit
Analysis of available technology
Cost-optimizing integration of the latest pro-beam technology into existing systems
Increased availability and service life
Modern, state-of-the-art beam, drive and control technology
Extension of service life thanks to manufacturer's guarantee
Training
Customer-specific training for
systems, CNC control, electron beam technology, maintenance and vacuum technology
Customized training for operators, planners, engineers as well as maintenance and service personnel
On site at the customer premises or at pro-beam
Tailored to your specific requirements